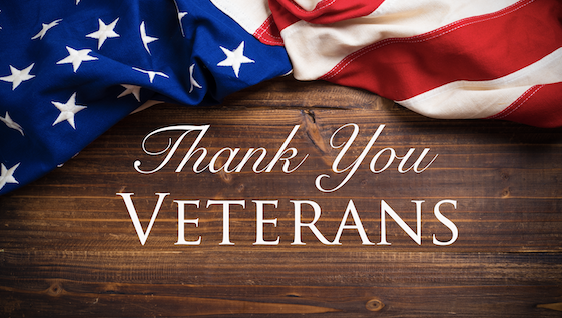 As we approach Veterans Day, we are full of gratitude to all who have served our country, at home and abroad, through military service. Most of us can only imagine the sacrifice required of our veterans and their families.
If you are looking for a way to show your appreciation to veterans this week, here is a list of ideas from the article "8 Ways to Express Appreciation on Veterans Day" at Military.com.
1. Show up and attend a Veterans Day event in your community.
2. Donate to an organization that supports veterans.
3. Correctly fly an American flag.
4. Ask a veteran about their service.
5. Write to a veteran - a card, postcard, or email - recognizing their service.
6. Be sure to know the difference between Veterans Day and Memorial Day.
7. Visit someone at a VA hospital.
8. Spend time with a veteran, especially doing something outdoors.
Learn more here